Breathe new life into an (old) photo with 3D
Do you have photos's that you do deserve some extra's? Old photos or a selfie you took with your smartphone? Turn your (old) photos into a 3D poster!
Your picture gets a whole new look. But what to look for if you want to do this?
Celebrating a party
This year is our 12th and a half year of marriage. We were not planning to celebrate this extensively, but wanted to give a little attention to this when we would be in America during the summer vacations. I am a big fan of Las Vegas and because we celebrated our first wedding anniversary here, we thought it would be fun to do something special here.
Nothing weird, just thinking about it and having a nice dinner. Now the trip to America is canceled this year, so I have to find another way to make our wedding day special.
Many photos are in an album
Our wedding day, was twelve years ago in Haarzuilen. Here we had our wedding photos taken at Castle de Haar. Two of these are enlarged in the living room and all the others are in a photo album.
Breathing new life into old pictures
I was very curious what the effect would be of having an old wedding photo put on a 3D poster. Print your photos in 3D at Floop Photography and get a print with realistic depth. They can play any picture you have in mind 'Floopen'. So not just from the present time or like mine from a few years ago, but also old wedding photos's from your grandparents or a selfie from your cell phone.
The end result is a photo that seems to come more to life and really pops off.
The 3D effect
You might know those rulers or pictures from our childhood, where the pictures moved when you tilted them, that happens with the picture in 3D too. But in a very bright version. If you look at it straight on, you see less effect, but if you look from the sides it is as if the picture comes to life. The poster I received after a few days is sturdy and made of ECOPET (a recycled plastic). We glued the poster to a plywood board, but you can also hang it up with tape.
For best effect, put it down or hang it from where you can look at it from a distance.
The effect of a 3D photo is amazing
I am very surprised about the effect, I had already seen on the site what the 3D effect looks like, but to have your own poster in your hands is like magic. From whichever side you look, something is happening. What I especially like is when you look from the right side, the white of the dress and the white of the car are so bright, it's as if they come out of the poster.
And if you look from the left it is as if the car will drive away from the poster!
Difficult to show the result here
Because it is difficult to show you the 3D effect I have posted a video below from the site of Floop photography. On this you can see the effect very well:
What to look out for when ordering a photo?
You could have a 3D poster made of each picture. Still, when choosing a photo it is important to look carefully at where you want to give the 3D effect to. You will get the best effect with photos where there are not too many people and with a natural background (not a white wall).
The effect here will look best and be telling.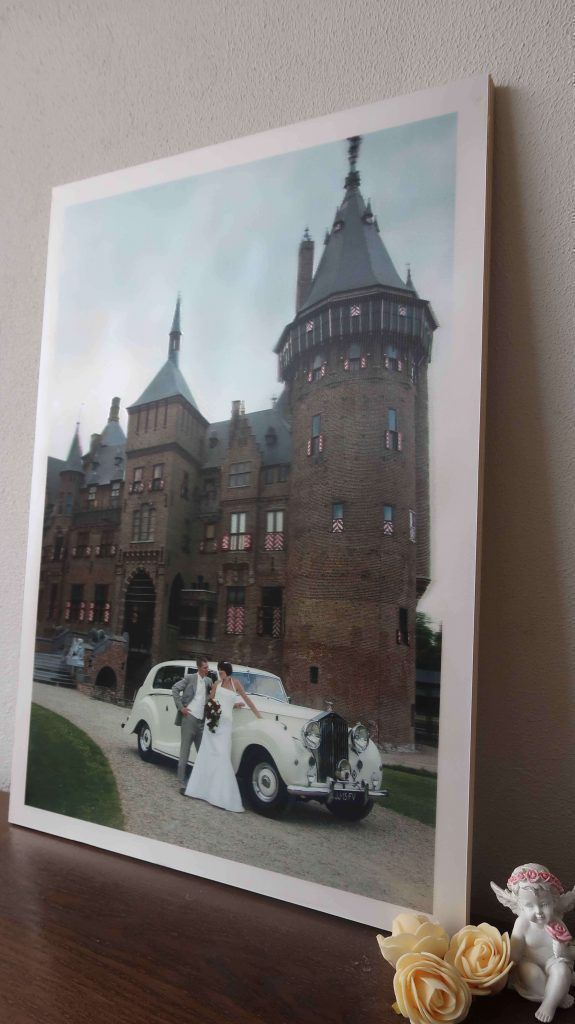 I can only say that having a 3D poster made by Floop Photography is highly recommended. For new photos, but certainly also to revive an old record.