Active outdoor vacations are the trend for families this year
Let the vacation planning begin! Now that the new year is just around the corner, people are often busy planning their summer vacations again. More and more people are choosing a Active outdoor vacation and then surf vacations are especially popular with families.
If you are still looking for a destination, read on quickly.
New year, new plans
Of course it's all pie in the sky, but still you would think and hope that we can start planning the summer vacation after all. Many vacationers choose destinations, where it is quieter. So without the busy crowds's.
Similarly, people are choosing nature more over cities and active outdoor vacations are becoming increasingly popular among families.
Active outdoor vacations
Organization Travelbase signals the trend that more and more families choose an active outdoor vacation. We as a family are one of them. Now it's nothing new with us, because an active outdoor vacation is actually a regular thing with us and where Travelbase sees that a surf vacation is popular, in our case it's a climbing and mountaineering vacation.
Surfing vacations very popular with families
In recent years, family surfing vacations are increasingly popular! This can of course mean parents are having drinks or lounging on the beach while the kids get surfing lessons, but surfing is also definitely the perfect activity to do with the whole family.
Read about the best places to surf? Here you will find lots of books
France chosen as favorite vacation country
Families looking for an active outdoor vacation and then like to go surfing usually end up in France. This is also logical. It has a wonderful climate, is easily accessible and is rich in beautiful nature, old towns and picturesque villages.
Because of its location on the Atlantic Ocean you will find here not only beautiful long beaches, high sand dunes and beautiful pine forests, but also the perfect waves to learn to surf.
Surftribe – new small surf camp for families
And when you think of surfing and France, you quickly think of Surftribe's family surf camp. This is a new, small-scale surf camp for families, located among the pine trees of camping Le Vivier. The campground is located next to the French coastal village of Biscarrosse Plage, one of the nicest seaside resorts in France.
You will find a wide range of stores, restaurants and cozy bars where you can go on beautiful summer evenings. So besides activity you can also find enough rest time in the vacation.
Luxury lodges and Dutch speaking surf instructors
At Surftribe you can learn to surf during the day and at night you sleep in a luxury lodge or a cool tepee! Learning to surf is not something you do on your own, of course; there are professional instructors on hand to explain exactly what to look out for once you get into the water to ride your first waves. They will also provide you with the right equipment.
The surf instructors at Surftribe are all Dutch-speaking and ISA certified.
Beach cruising and live performances
Besides surfing, other fun activities are organized for an active outdoor vacation. So you can SUP, take a bike ride around the area on a trendy beach cruiser and enjoy live performances in the evening! Movie nights and sports competitions (such as a family beach volleyball tournament, for both children and parents) are also provided every week.
Yoga for the kids
Maybe your kids don't like it, but maybe they do; activities organized especially for the kids. An Endusiastic Animation Team Organizes Activities Such as Painting Lessons, Crafts, Beach Games or Kids Yoga. Extra convenient: The Activities of the Animation Team Are Arranged to Coincide with the Surfing Lessons For The Parents, So You Can Enjoy A Carefree Session Session.
For children from 1 to 5 years there is a child care center.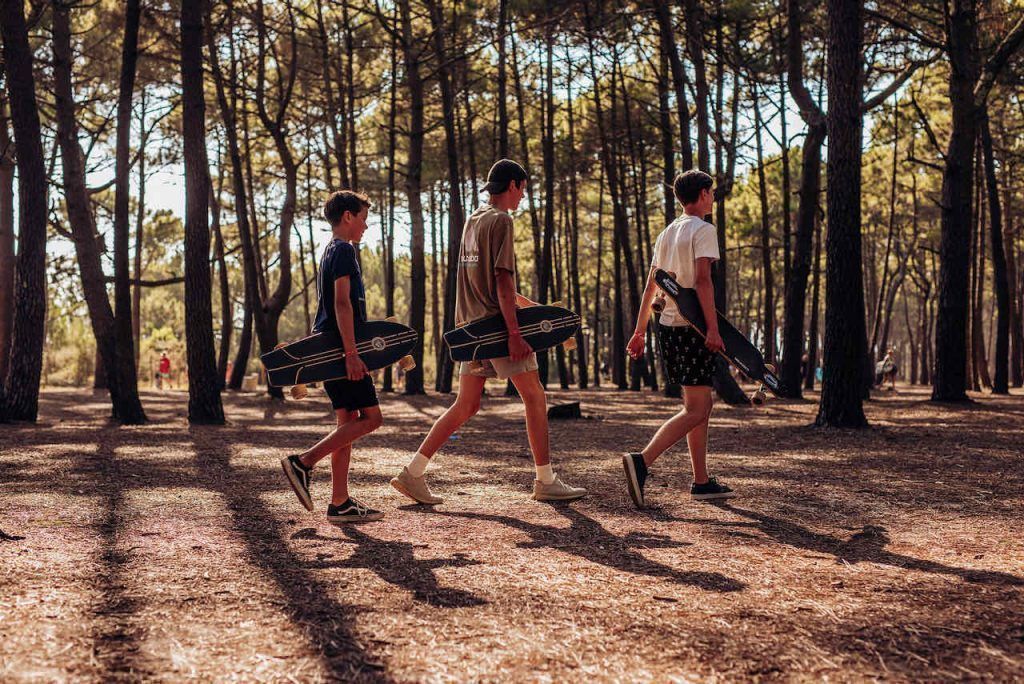 Because to know more about surf tribe, such as prices and availability? Check out Surftribe.org.
Where does your trip go
Are you already Looking for Summer Vacations and Where Are You Going?? If you like an active outdoor vacation, surfing is a great activity for you. Or would you rather go on a city trip?
A Vacation or Trip for Everyone.